In the previous installment of DDoD, I discussed the underrated brilliance of the protagonist of Haunting Ground, Fiona Belli, who was flung into the deep end of an insidious and existentially terrifying state of affairs with a bit of social commentary and paganism peppered in for good measure.
Now it's time to discuss her analogue, the self-proclaimed 'Perfect Woman', actual damaged lunatic-cum-broken bird, Daniella (superbly voiced by Moira Quirk channeling Mrs. Danvers from Hitchcock's Rebecca), the maid of Belli Castle who also has the distinction of being one of the most disturbing and sympathetic digital villainesses ever; at least in my grimoire.
From the moment the player lays eyes on Daniella, they are simultaneously struck by her striking appearance (that hair!), somewhat inappropriate for work but dreamy for cosplay uniform and her cold, automaton bearing. With her dulcet, monotonous tone and unnaturally graceful movements, she doesn't seem to so much see Fiona, but sees THROUGH her, as if the young woman is nothing but a piece of glass. A phlegmatic air of hostility emanates from the frosty beauty, but she does not present an immediate threat to Fiona… to begin with. For a while, Daniella appears completely oblivious to Fiona's presence as the young woman navigates the expansive estate, cleaning various nooks and crannies, completely contained in her own mental realm, that is until she (very intimately) informs Fiona that dinner is… served.
After having been an indifferent background feature, Daniella cooks Fiona a hearty spread of something… questionable and stands by to watch the other woman consume her efforts as she lacksidasically explains something akin to a truncated biography; that she was created by her 'Master' to be the 'Perfect Woman' and she isn't wrong; she is a Waterhouse beauty made homunculus flesh, a manufactured creation made in the name of perfection. As a result of this, she also admits to being anhedonic- the incapacity to experience pleasure or happiness.
If you thought this exchange wasn't uncompromisingly uncomfortable enough, later, when Fiona sleeps, Daniella hovers over her reposing form, her pale, long-fingered hand overs narrowly above Fiona's body as she looks intently at every part it surveys; her face, her throat, her breasts, her stomach and finally between her legs. After a moment, with look of frighteningly ardent intent, her hand presses squarely against Fiona's clothed vagina, causing the girl to wake up in a fright. Daniella holds her gaze several moments more; one can't decide if the look is supposed to be seductive or malign before she walks across the room to a mirror and, well… that's when things get UGLY.
Daniella is SUCH an interesting character for multiple reasons; she is clearly mentally unstable, in fact, I would love to see a psychologist do a full profile of the various afflictions Daniella appears to harbor, and while there is little doubt she is terrifying, she is also a cautionary and tragic tale against the toxicity of the unchecked quest for the perfect when it comes to women and their bodies.
You can see where I am going with this, yes? Good, because this is a crucial part of Daniella as a character and her role in the game.
Fiona represents everything Daniella is not; she is human in every sense of the word. Daniella meanwhile is Galatea; an imitation. A beautiful imitation, but an imitation nevertheless. For all of her initial apathy in the first part of the game before she becomes a primary threat, she is a statue in motion obsessively, tirelessly attending to her role of complete servitude all because of harmful patriarchal desire.
Daniella was created specifically to unerringly, unquestioningly obey and undoubtedly to be a target of violent exploitation by two particular denizens of Belli Castle, which I won't go in to for fear of spoilers and I don't believe my own words can do the whole foul truth justice. However, as the story goes, a dog can only be kicked long enough before it bites back. Unfortunately in Daniella's case, having met Fiona and undoubtedly detecting the younger woman's significance with regards to her Azoth, something inside of her snaps. Daniella craves the ability to feel, she wants the ability to create, she wants to live… she wants to be a WOMAN and the only way to accomplish this is to eliminate the female threat.
In her demented mind, Fiona is the embodiment of her desires and frustrations, but rather than endeavor a treatise with Fiona, or find it within her to feel compassion for Fiona's plight, her only solution is to kill the girl and take the Azoth for herself as she believes if she does, she too will become a 'complete' woman.
Or will she?
SPOILERS AHEAD!
The twist? The tragic, terrible twist?
She will not.
Daniella is inferred in game to have always been a woman, born, not created.
From an early age, Daniella was abducted and molded by the Belli Castle denizens to a life of slavery among other things. So powerful and destructive was her conditioning, she accepted the fact she was a forgery. While there is little doubt that some alchemical force had deprived her of sensation and emotion while exaggerating her aesthetic appearance, she was utterly convinced that she was what she was shaped to be. Daniella's life had been effectively ruined by the concept of perfection being taken to harmful degrees with no say in the matter. When she finally realises the architecture of her existence, it is far too late for her to reconcile or even hope to find a way of taking back her agency, another reason why she pursues Fiona so viciously.
I'm gonna square up with you. I sincerely feel Daniella is an exaggerated take on the female misogynist.
While men tend to take the cake statistically in the more visible arena of misogyny, an alarming number of women are misogynists too. In fact, women use misogynistic language more frequently than men do because it can insidiously be passed off a 'harmless' gossip just as sexist conversations between men are insistently regarded as 'locker room banter'. Like their male counterparts, female misogynists are driven by irrational hate, fear of or contempt for other women. Daniella is a clear representation of this demographic due to how she behaves and reacts throughout the game. While she ultimately hates herself more than anybody else, she projects her hatred upon Fiona, resorting even to slut-shaming the young woman for no justifiable reason. For all of her external beauty, she possesses an ugly interior and because of this, she can't look into a mirror, both literally and psychologically, which leads to her inevitable destruction.
Additional aside: There is an unspoken convention in storytelling about coding a character's sexuality via the use of colour. In the case of Daniella with her luxurious purple locks, flawless complexion contrasted by her vaguely sexualised green and white ensemble, one can't help but associate that particular palette with genderqueer and asexuality. General definition of genderqueer denotes a person who does not subscribe to conventional gender distinctions but identifies with neither, both, or a combination of male and female genders. Many interpretations about Daniella's sexual identity spawned from just how obsessively fixated the character becomes with Fiona, and not only that, the stalk segments involve her literally coming out of a closet with a long, jagged glass blade to surprise and penetrate Miss Belli.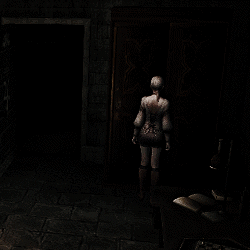 That being said, Daniella appears to identify as asexual. While Daniella looks distinctly feminine with her vaguely fetishistic fantasy maid's outfit and supermodel appearance, she does not show any hint of having authentic sexual desire. While some cut scenes suggest an eerie sense of sexual tension, it is clear she does not see Fiona as a potential romantic partner but a boon and a bane to her existence to be extinguished and utilized for her own means.
(Note: I could be reaching here, but usually woman-on-woman action is seen as something of a fetishistic fantasy by heterosexual men, but here it is splendidly inverted. I wonder if this was the intention of the creative crew?)
There is so much about the character of Daniella to admire, but I had to sum up why, I feel the best explanation I can provide is that despite her more exaggerated aspects, she is the best sort of villain; one with understandable motives that are visible in our own society… motives we can relate to. The unhealthy pursuit of perfection is a venomous thing as it completely undermines what the human experience is all about and take away what it truly means to be human; to be flawed, to accept our differences. This does statement does not account for every facet of our existence, but the moment we impose our notions of what we perceive as superlative on another person, and not only that, but pay heed to, that is when we lose sight of and deny who we truly are.
We become… incomplete.
By the way, take a listen to her stalking theme. It marvelously embodies the character.
Disjointed, disturbing yet tragic, like a robotic swan choking on it's blood.